Crystal Springs Software was founded in 2008 by a husband and wife team, Ken Anderson and Janice Flint. The purpose of the company is to develop and sell software for the iPhone and iPod Touch. The company curently has two employees and is self-funded.
Ken Anderson worked at Adobe Systems for 21 years. Ken worked as an Engineering Manager and then Director of Engineering during the development of the first four versions of Acrobat and Adobe Reader. In 1999, Ken took two years off of the Acrobat project to serve as the Engineering Director for an Adobe group building web hosted applications, including Design Team and Create PDF Online. Ken came back to the Acrobat project on the Engineering side for Acrobat 6 and was the Senior Director of Product Management for Acrobat versions 7 through 9. In 2008 Ken left Adobe to form Crystal Springs Software.
In 1981 Janice Flint worked as a programmer on passive sonar arrays for Rockwell International and then moved to Mattel Electronics where she worked on speech compression for the Mattel Intelivision . Janice then switched careers and taught Math and Computer Science at the Westridge School in Pasadena and then Castilleja in Palo Alto before working as a full-time mom for 18 years. When the iPhone came out, Janice wanted to get back into programming and started developing games for the iPhone before becoming one of the founders of Crystal Springs Software.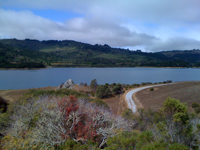 The company is named after Crystal Springs Reservoir in San Mateo County, which was a common biking destination for Ken while he and Janice were thinking of starting the company. The road in this picture of the reservoir was the inspiration for the company logo.